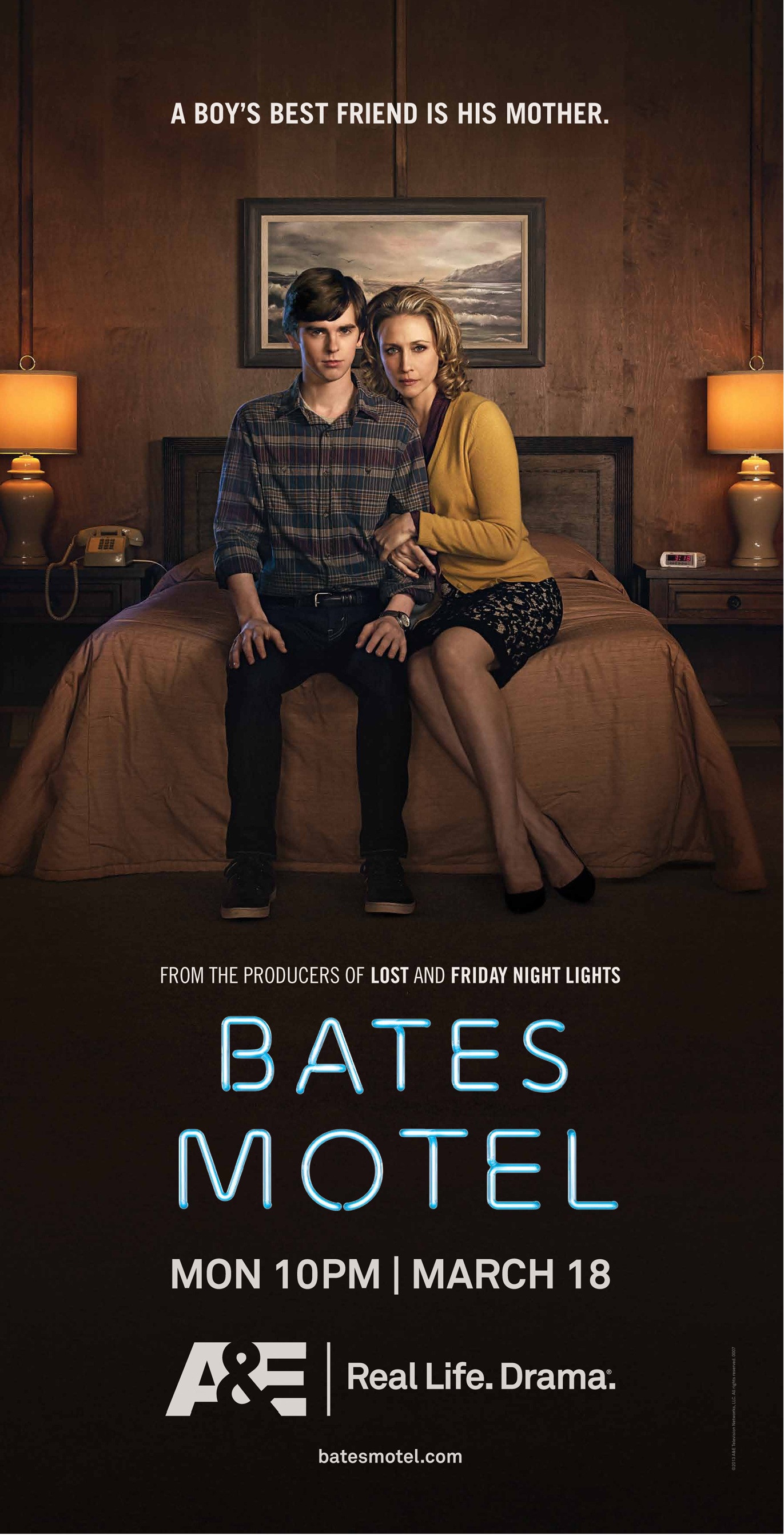 Developed for television by Carlton Cuse, Kerry Ehrin, and Anthony Cipriano.
Cast: Vera Farmiga (1), Freddie Highmore (2), Max Thieriot (3), Nicola Peltz (4), Mike Vogel (5), Keegan Connor Tracy (6), Nestor Carbonell (7), and Olivia Cooke
Do you ever think about the backstory of all the infamous killers in film and television? Were they ever normal? Did they go to school? Did they have friends, or even a best friend? Is there a turning point in their life that made them become killers and what was it? All these questions are sometimes never addressed in slasher flicks or suspense thrillers. I mean you can only put in so much detail and backstory in 90 to 150 minutes. But it is this curiosity to fully understand a character such as Norman Bates that will make this series a hit.
I don't do well with suspense horror films. That's my excuse for not ever watching Psycho. I have watched Hitchcock's Vertigo though, in class. But watching Hannibal, and now Bates Motel, and actually liking them has made me reconsider my self imposed embargo on suspense thrillers. Maybe I just need to muster up the courage to be open to watching suspense thrillers.
It's interesting that there are so many recent television series that build on or expand on the universe of already well known characters. Just this year alone there are shows like Arrow that build upon the universe of the Green Arrow. Beauty And The Beast featuring of course the title characters, Elementary with Sherlock Holmes, Hannibal featuring Dr Hannibal Lecter and the characters from Red Dragon, Ripper Street which is linked to the universe of Jack the Ripper, and of course Bates Motel. But I love majority of the shows mentioned here, because whether I previously knew of the characters or universe they are based on or not, there's always something new and fascinating to discover about them. I see it as a new point of view. Or a new insight to an already well loved character.
Every good suspense thriller needs a creepy house!
With Bates Motel, much like in the new series Hannibal, I think it gives a new dimension to the character of Norman Bates. He is no longer just the creepy guy with a split personality and a violent streak. This is an updated version, set in the modern world. And it's beginning to look like it's gonna be a really interesting world.
Our experiences shape who we are. Maybe if Norman Bates never witnessed his mum killing the man who raped her he wouldn't have become a psycho killer? And if they never tried to cover up his murder, Norman Bates would have never found the book with graphic images which may or may not have put those sadistic thoughts in his head? We will never know if the absence of these incidents would have made a difference, but still it's interesting to think about. And this is what draws me into the series. The characters.
Episode 1
-
First You Dream, Then You Die
He's all grown up now. And I think Bates Motel is his golden ticket to fame.
And what an excellent performance by young Freddie Highmore here as Norman Bates! He makes me want to watch the transformation of Norman Bates, the typical shy awkward kid to Norman Bates, the adult psychopath with a split personality disorder. In fact, even in the first episode, we can already clearly see the path of destruction that we know is in store for Norman Bates. And it is this detail that is fascinating. It is these nuances that will work for Bates Motel and give the series some legs. I am looking forward to more excellent performances by Freddie Highmore.
The way she stares him down is creepy.
She is one momma I don't want to cross...
Then there's Vera Farmiga. Wow! She's done an amazing job here as Norma Bates. Her performance is just the right balance of crazy-over-protective mum and struggling-single-mum-doing-the-best-she-can. I really wonder if she's bipolar. She is so chirpy, childlike, and hyper active in one scene, then in another she becomes controlling and bitchy. Oh, and when she gives you the 'crazy eyes' type of stare, she really is very intimidating. And that rape and murder scene. Wow! It's really sets the tone of what to expect in the series.
While watching the first episode, I find that their relationship is
more like a husband and wife thing than a mother and son thing.
Or am I reading too much into it?
This first episode really establishes who Norma and Norman Bates are, and we see their connection with each other. Both Freddie Highmore and Vera Farmiga do an amazing job as the two main characters of the series. Their mother and son relationship really jumps off the screen and we immediately feel for both characters and want to know more about them, which is a really good start.
So far in the first episode of Bates Motel, we only hear Dylan's voice. Dylan is Norma Bates' son and Norman Bates' half brother. Played by
Max Thieriot, I am really looking forward to see him in future episodes. I first noticed Max Thieriot in the film Catch That Kid and he again ca
ught my eye in the film Nancy Drew when he played Nancy Drew's boyfriend Ned Nickerson.
I'm very intrigued by this budding relationship between Emma and Norman.
Be it as just friends or more than that.
There are other characters like Nicola Peltz's Bradley Martin, Olivia Cooke's Emma Decody, Mike Vogel's

Deputy Zack Shelby,

Nestor Carbonell's

Sheriff Alex Romero, and

Keegan Connor Tracy's Miss Watson.

But

we really only get a sneak peek at how they all fit into the story, so I'm very excited to see what the writers have in store for them in the series. Needless to say I'm slowly warming up to Bates Motel and will see how far I get before I lose my interest.
Norma: This is the part where you say, "Mother, this is beautiful. I am so happy we're moving here. You are so smart to have thought of this."
Norman:
Mother, this is so beautiful. I am so happy you're making me move here. You are so smart to force me to do things I have no say in.
Norma: You're an ass.
Norma: Norman, we've been through a lot. This is our chance to start over.
Norman: Maybe some people don't get to start over. Maybe they just bring themselves to a new place.
Norma: But they do start over, but they have to try. Yeah? Norman please. For me. It's all gonna be good. You'll see.
An exciting first episode and a very impressive performance by Vera Farmiga.
Yeap it's been a pretty bloody weekend for me.
First with Hannibal then now Bates Motel.
Norma: I suck.
Norman: Mum, he attacked you.
Norma: I'm not even talking about him. I found out today that the city is building a bypass on the far side of town. It's gonna be the new main road. I bought a motel that no one is ever gonna know is even there.
Norman: Why didn't the real estate guy tell you that?
Norma: Because Norman, people suck. Tell you, everyone I have ever known has sucked. Except you. You're too good for me. I am the worst mother in the world.
Norman: Mother.
Norma: Look at what we're doing Norman. You deserve so much better. You know when you were born it was like God gave me a second chance. And all I ever wanted was for life to be beautiful for you, and look at it. Look at what your life has been. I mean what good am I doing you.
Norman: Mum you're everything. Everything to me. And I don't ever want to live in a world with you. You're my family. My whole family, my whole life, my whole self. You always have been. It's like there's a chord between our hearts.
Norma: Honey that's, that's from Jane Eyre. Yeah. Orsen Welles says it to...
Norman: ... Joan
Fontaine. Right. But you know what I mean. It's you and me. It's always been you and me. We belong to each other.
Norma: I love you Norman. You're the best thing that's ever happened to me.
Norman: I love you too Mum.
I love this shot! Although I find it really strange that the Sheriff can't
smell the blood while peeing for SO long in the bathroom!
Prelude of what's to come?
My favourite lines - "
Maybe some people don't get to start over. Maybe they just bring themselves to a new place.", "I know everything about this place. Every nook and cranny. Every dirty secret. You
don't know how this place works. This town, you know nothing about this town. What makes you think you can run this place by yourself?", "I think people who are different don't know they're different because they have nothing to compare it to.", "Who is gonna book a room in a rape slash murder hotel?", & "What's important is that we're together. You know as long as we're together then nothing bad can really happen. Right Norman?"
(1) Vera Farmiga has acted in films like Autumn In New York (2000), 15 Minutes (2001), Snow White: The Fairest Of Them All (2001), The Manchurian Candidate (2004), The Departed (2006), The Boy In The Striped Pyjamas (2008), Up In The Air (2009), Henry's Crime (2010), Source Code (2011), and Safe House (2012).
(2) Freddie Highmore has acted in films like Finding Neverland (2004), Charlie And The Chocolate Factory (2005), A Good Year (2006), August Rush (2007), The Golden Compass (2007), The Spiderwick Chronicles (2008), and The Art Of Getting By (2011). He also voiced the character of Astro Boy in the feature animation Astro Boy (2009).
(3) Max Thieriot has acted in films like Catch That Kid (2004), The Pacifier (2005), Nancy Drew (2007), Jumper (2008), and Chloe (2010).
(4) Nicola Peltz has also acted in the film The Last Airbender (2010).
(5), Mike Vogel has acted in films like The Sisterhood Of The Traveling Pants (2005), Havoc (2005), Rumor Has It... (2005), Poseidon (2006), Cloverfield (2008), Blue Valentine (2010), She's Out Of My League (2010), The Help (2011), What's Your Number? (2011), and McCanick (2013). He also played the role of Dean Lowrey in the television series Pan Am (2011).
(6) Keegan Connor Tracy has acted in films like Duets (2000), 40 Days And 40 Nights (2002), Final Destination 2 (2003), The Women (2008), and Smokin' Aces 2: Assassins' Ball (2010). She also played the role of the Blue Fairy and Mother Superior in the television series Once Upon A Time (2011-present). She has also guest starred in shows like Dark Angel, Stargate SG-1, Supernatural, Psych, Battlestar Galactica, Life Unexpected, and Eureka.
(7) Nestor Carbonell has acted in films like Smokin' Aces (2006), The Dark Knight (2008), and The Dark Knight Rises (2012). He has played the role of

Luis Rivera in the television series Suddenly Susan (1996-2000), acted as Richard Alpert in the series Lost (2007-2010), and also played

Victor Machado in the series Ringer (2011-2012)

. He has also guest starred in shows like LAw & Order, Veronica's Closet, Ally McBeal, Monk, Scrubs, House, Cold Case, and Psych.
The Eclectic Reviewer thinks... that watching Bates Motel will give you an uncomfortable and unsettling feeling. But that's how you're supposed to feel when you're watching a television series based on one of the most iconic suspense thrillers ever I guess. While I am not a fan of the genre, Bates Motel has surprised me because I actually like this first episode. What's even more surprising to me is that I am looking forward to watching the next episode to see how Freddie Highmore's Norman Bates becomes the infamous Norman Bates.
* Poster from Zimbio.com
& screen grabs from the show
Click here to follow Entitled To Opinion on Facebook