Cast: Ginnifer Goodwin (2), Kevin Connolly (3), Scarlett Johansson (4), Bradley Cooper (5), Ben Affleck (6), Justin Long (7), Jennifer Connelly (8), Jennifer Aniston (9), and Drew Barrymore (10)
My favourite quotes – "
The rule is, if a guy doesn't call you, he doesn't want to call you…
if a guy is treating you like he doesn't give a shit, he genuinely doesn't give a shit. No exceptions."
& "If a guy wants to see you believe me he will see you. I once called 55 Lauren Bells before I got the right one."
Did you know? - The film is based on a

self-help book of the same name

written by Greg Behrendt and Liz Tuccillo. It was inspired by a line of dialogue from the television series Sex And The City.
My colleagues have been actively trying to encourage this guy, let's call him Mr X, to date me and they're been trying to get me to give him a chance and go out with him. Let's just say that after lots of prodding and teasing and even someone getting him to promise to ask me out, he finally did. The date was alright. I don't dislike Mr X, but I don't feel for him more than a friend right at this very moment.
I've dated men who don't take the initiative to ask me first. And my last few relationships started mostly because I made the first move to ask the guy out or to tell them I was interested in getting to know them better. Let's just say that once I make the first move, I always had to take the lead. And I got tired of wearing the pants in the relationship and being the one to take the lead or make the decisions. I want to be taken care of and chased for a change.
This movie really says it all in regards to my situation with Mr X. If he needed to be teased and prodded to make a move to ask me out, then you know what, maybe he's just not that into me. After all, I do think what Alex says makes a lot of sense. "The rule is, if a guy doesn't call you, he doesn't want to call you… if a guy is treating you like he doesn't give a shit, he genuinely doesn't give a shit. No exceptions." My friends say maybe he's shy or the passive kind. Then he really isn't the right guy for me now is he? Because right now, I am looking for someone who will take the lead on his own accord. Don't get me wrong. Mr X is a great guy and he'll make some girl really happy one day. But its looking more and more like that girl ain't gonna be me. I mean, my friends can't prod him to keep asking me out or be more pro-active regarding me ALL THE TIME! And I really don't want to start or go into a relationship with someone hoping that he will change or thinking I am that special person that will change him. No! If he really loves me and will change for me, like Neil does for Beth, then great. But I won't expect him to. Because that kind of thinking just gets you in a lot of pain and heartache in the end.
I love this film. I haven't tried reading the book yet and I might get it someday to read it. The film focuses on four stories Gigi & Alex, Janine, Ben & Anna, Neil & Beth, and Anna, Mary & Connor. My favourite story is of Gigi & Alex. And this is my favourite scene:
Gigi: A wise person once told me that if a guy wants to be with a girl, he will make it happen, no matter what.
Alex: That's true.
Gigi: But when I was hurling my body onto yours, you did not seem to want to make it happen.
Alex: Okay, yeah, here's the thing about that... You were right. I'd gotten so used to keeping myself at a safe distance from all these women and having the power that, that I didn't know what it felt like when I actually fell for one of them... I didn't know.
Gigi: Look, I just went out with your friend Bill. He might be just exactly what I need. No drama, he calls; he does what he says...
Alex: [stepping closer] I can do that stuff too...
Gigi: But you didn't! And that same wise person told me that I'm the rule. That I have to stop thinking that every guy will change, that I have to stop thinking that... [Alex kisses her] ... I'm the exception...
Alex: [whispers] You are my exception.

Theirs is a relationship that grew from friendship. And I think I'm very similar to Gigi. Okay I don't cyber stalk guys I'm interested in but I never give up on love. I might not be actively looking out for love at the moment, but I am open to the right one turning up on my doorstep. Yes, you say sitting around on my bum waiting for prince charming to come is stupid and I should do something about it. Well I do try. I have gone for a couple of SDN events. However, they have all come to naught. At the moment, I have decided to work on me first. I will keep exercising and try to make sure I don't overeat too much and work on my dressing etc. It is true isn't it. People judge other people through the way they carry themselves and the way they look. So until I can be entirely happy with how I look and dress, I don't think I am the best me to attract someone I'd like to be with.
The story I like most after Gigi & Alex's story is the one about Beth & Neil. I truly do understand what Neil is saying about not needing a marriage certificate. I know of people who are happy together, committed to each other and unmarried, but have a relationship akin to marriage even without a piece of paper that binds them together. But I am still traditional and would love to one day walk down the aisle and get married wearing a pretty white dress in the church I grew up in. Yes there are some people who "do it because they're insecure and because they think that getting married is what they're supposed to be doing now" and I do agree about not needing to pay money to get a marriage certificate. All you need is love and that is enough. But! Neil's staunch disbelief in marriage is what makes this story so sweet because he relents eventually and marries her. Because he needs to make her happy to even have a shot at being happy. *Cue "Awwww..."*
"I had this guy leave me a voice mail at work so I called him at home and then he e-mailed me to my Blackberry and so I texted to his cell and then he e-mailed me to my home account and the whole thing just got out of control. I miss the days when you had one phone number and one answering machine and that one answering machine has one cassette tape and that one cassette tape either had a message from a guy or it didn't. And now you just have to go around checking all these different portals just to get rejected by seven different technologies. It's exhausting."
Next is Mary. Mary reminds me a little of me too. Searching for true love through so many avenues. But all she wants is to meet someone organically, face to face. Why can't people fall in love the old fashioned way. Not by match-making, not through any online or social media platforms. Mary, I totally agree with you, it's exhausting. And what I like about her story with Connor is that eventually, love finds you when you least expect it. Her story with Connor also tells me that you shouldn't assume, anything and everything is possible. You must give it a chance, try it and see if it will work. But after you've tried and it still doesn't work out then so be it. Maybe you're not meant to be, which brings to mind, Connor and Anna as well as Anna, Ben, & Janine.
Gigi: I think I've figured it out. Remember when I went out with that notary public and he cheated on me and then Anastasia from upstairs told me about how her boyfriend cheated on her in the beginning then he totally changed and now they're married and crazy in love?
Beth: I thought that guy was a process server.
Gigi: No notary. Anyway my point is, Anastasia is the exception, not the rule. We have to stop listening to these stories because the rule is most guys who cheat on you up front don't really care about you very much.
Janine: Ok.
Gigi: Ok, Ok. Exhibit A. Chad the drummer who lived in a storage space. He only used me for rides and yet I continued to stalk him for most of 1998. Then oh, um, there was Don, that broke up with me every Friday so that he could have his weekends free. I was delusional about that relationship. I used to refer to him as my husband to random people, like my dental hygienist. Anyway, all my friends used to tell me about how things might work out with these dipsticks because they knew someone, who knew someone, who dated a dipstick just like mine. That girl ended up getting married and living happily ever after. That's the exception and we're not the exception, we're the rule.

Now the above quote is so apt for Connor as well! I mean, Anna's not interested. She's just using you as a safety net, a fallback. Wake up and smell the BS! When she's lonely, or needs reassurance that someone loves her, she goes to you! Yeap. When I first watched the film, that was screaming so loudly in my head I wanted to yell at Connor for being so dumb! But looking at the way he cuddles with Anna in bed, (haha) no wonder Anna wasn't in love with him.

And the very last story I've yet to talk about is Janine, Anna, & Ben. I admit Janine is very intense and I can see that the cracks have already formed between Ben and Janine. All it took to smash it to pieces is a beautiful woman in the form of Scarlett Johansson's Anna.
"What if you meet the love of your life but you already married someone else? Are you supposed to let them pass you by?"

That is indeed a very good question. What would you do? Would you walk away from someone you think is 'The One'? Or do you risk it all in the hopes or belief that someone you're not married to is the elusive 'The One'? I hope I never ever have to face such a situation and I hope my hubby won't too. I guess that's why right now, I recognise the importance to get it right right from the start.

"Y

ou're a dick if you date a girl for too long and don't marry her, but then you marry her and you're an asshole for getting married before you're ready.

" Poor Ben. But his error in judgement has made me even more adamant that one should be very sure and ready to be committed before getting married.
This film talks about love in all forms. Hence the intersection of various stories and scenarios. I think that is why I love it! It's talking about my favourite subject - love. I think should watch Love Actually again actually. =P

Of course helps that the film has a great cast. In fact, this film made me really sit up and notice Ginnifer Goodwin for the first time. I mean I've seen her in Win A Date With Ted Hamiliton! and Mona Lisa Smile before He's Just Not That Into You, but this film made me notice her and I started following her films like Something Borrowed and Ramona and Beezus. Anyhow, during the promotion of He's Just Not That Into You, I really love this photo of Ginnifer Goodwin, Jennifer Aniston and Drew Barrymore so I had to look for it and share it with everyone.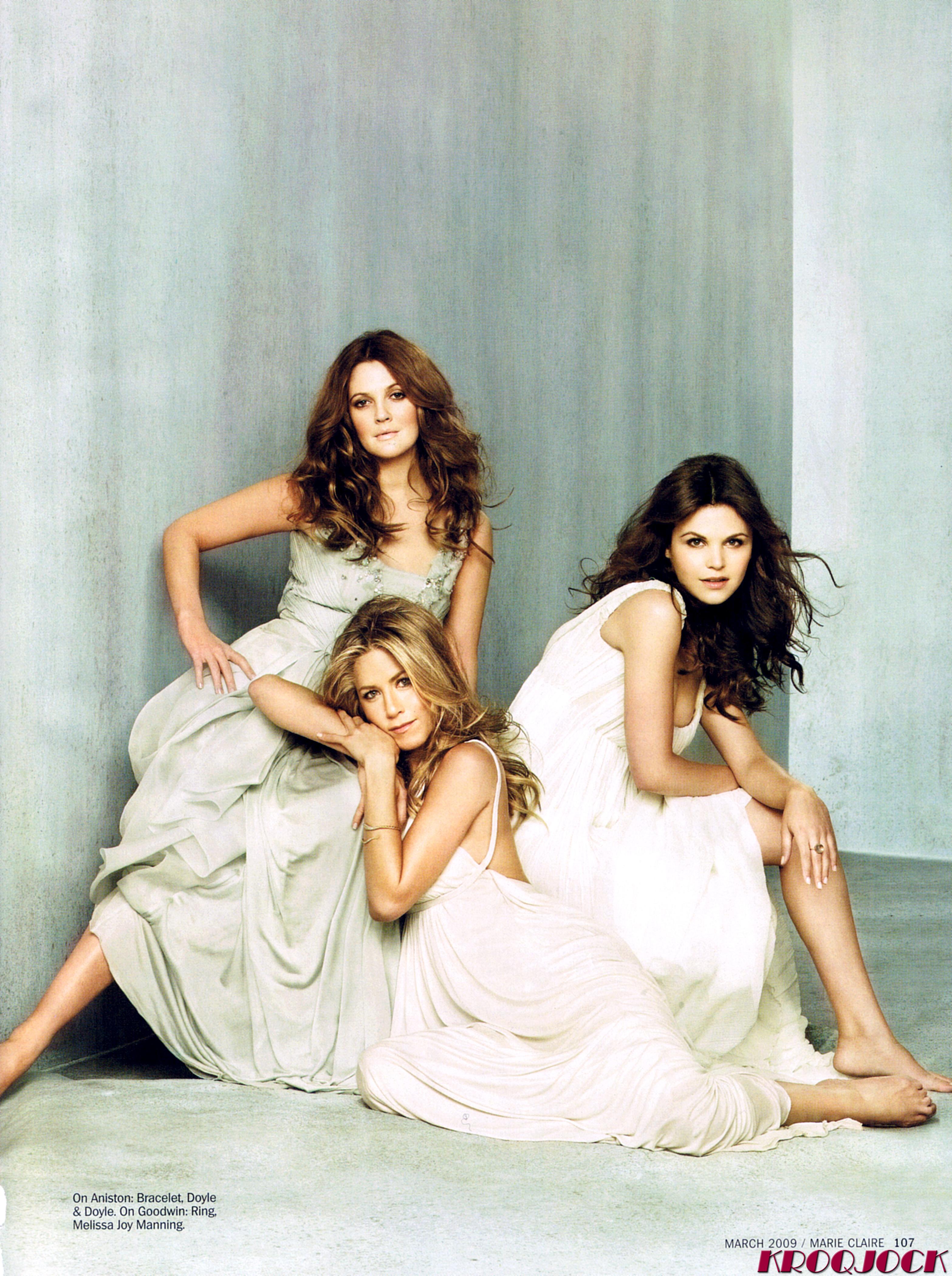 Jennifer Aniston,Drew Barrymore,

& Ginnifer Goodwin
- Marie Claire Magazine March 2009

(1) Ken Kwapis has directed films like The Sisterhood Of The Traveling Pants (2005), License To Wed (2007), and Big Miracle (2012).

(2) Ginnifer Goodwin has acted in films like Mona Lisa Smile (2003), Win A Date With Ted Hamiliton! (2004), Walk The Line (2005), In The Land Of Women (2007), Ramona and Beezus (2010), and Something Borrowed (2011). She is well known for her role as Margene Heffman in Big Love (2006-2011) and in the new series Once Upon A Time (2011-present) as Snow White and Mary Margaret Blanchard.

(3) Kevin Connolly has acted in films like The Notebook (2004), and The Ugly Truth (2009). He is well known for his role as Eric Murphy in Entourage (2004-2011).

(4) Scarlett Johansson has acted in films like The Horse Whisperer (1998), Lost In Translation (2003), Girl With A Pearl Earring (2003), The Perfect Score (2004), In Good Company (2004), The Island (2005), Match Point (2005), Scoop (2006), The Black Dahlia (2006), The Prestige (2006), The Nanny Diaries (2007), The Other Boleyn Girl (2008), Vicky Christina Barcelona (2008), Iron Man 2 (2010), We Bought A Zoo (2011), and The Avengers (2012).
(5)

Bradley Cooper has acted in films like Wedding Crashers (2005), Failure To Launch (2006), Yes Man (2008), The Hangover (2009), All About Steve (2009), New York, I Love You (2009), Valentine's Day (2010), The A-Team (2010), Limitless (2011), and The Hangover Part II (2011).
(6) Ben Affleck
has acted in films like Good Will Hunting (1997), Chasing Amy (1997), Shakespeare In Love (1998), Armageddon (1998), Forces Of Nature (1999), Bounce (2000), Pearl Harbour (2001), Daredevil (2003), Paycheck (2003), Jersey Girl (2004), Elektra (2005), Smokin' Aces (2007), State Of Play (2009), The Town (2010), and To The Wonder (2012).

(7)
Justin Long has acted in films like Galaxy Quest (1999), Crossroads (2002), Dodgeball: A True Underdog Story (2004), Herbie: Full Loaded (2005), The Break-Up (2006), Accepted (2006), Zack And Miri Make A Porno (2008), Pineapple Express (2008), Funny People (2009), Going The Distance (2010), and The Conspirator (2011). He has also voiced the character of Senn in the animation Battle For Terra (2007) and Alvin in the live-action films Alvin And The Chipmuks (2007), Alvin And The Chipmunks: The Squeakquel (2009) and again in Alvin And The Chipmunks: Chipwrecked (2011).

(8)
Jennifer Connelly has acted in films like The Rocketeer (1991), Inventing The Abbotts (1997), Requiem For A Dream (2000), Pollock (2000), A Beautiful Mind (2001), Hulk (2003), Blood Diamond (2006), Reservation Road (2007), The Day The Earth Stood Still (2008), Inkheart (2008), Creation (2009), Virginia (2010), and Noah (2014). She has also performed the role of Anna Leonowens in The King and I on Broadway from 1996 to 1998.
(9) Jennifer Aniston has acted in films like She's The One (1996), Picture Perfect (1997), The Object Of My Affection (1998), The Good Girl (2002) Bruce Almighty (2003), Along Came Polly (2004), Rumour Has It (2005), The Break-Up (2006), Marley & Me (2008), Love Happens (2009), The Bounty Hunter (2010), The Switch (2010), Just Go With It (2011), and Horrible Bosses (2011). She is famous for the role of Rachel Green in the television series Friends (1994-2004).

(10) Drew Barrymore has acted in films like E.T. The Extra-Terrestrial (1982), Firestarter (1984), Poison Ivy (1992), Batman Forever (1995), Scream (1996), The Wedding Singer (1998), Ever After (1998), Never Been Kissed (1999), Charlie's Angels (2000), Donnie Darko (2001), Riding In Cars With Boys (2001), Confessions Of A Dangerous Mind (2002), Charlie's Angels: Full Throttle (2003), Duplex (2003), 50 First Dates (2004), Fever Pitch (2005), Music And Lyrics (2007), Lucky You (2007), Whip It (2009), Going The Distance (2010), and Big Miracle (2012). She also did voice work on the animations Titan A.E. (2000), Curious George (2006).
The Eclectic Reviewer thinks… In my opinion, the following quote sums up He's Just Not That Into You perfectly.

"Girls are taught a lot of stuff growing up. If a guy punches you he likes you. Never try to trim your own bangs and someday you will meet a wonderful guy and get your very own happy ending. Every movie we see, every story we're told implores us to wait for it, the third act twist, the unexpected declaration of love, the exception to the rule. But sometimes we're so focused on finding our happy ending we don't learn how to read the signs, how to tell from the ones who want us, and the ones who don't, the ones who will stay, and the ones who will leave. And maybe this happy ending doesn't include a wonderful guy, maybe... it's you, on your own, picking up the pieces and starting over, freeing yourself up for something better in the future. Maybe the happy ending is... just... moving on. Or maybe the happy ending is this, knowing through all the unreturned phone calls, broken-hearts, through all the blunders and misread signals, through all of the pain and embarrassment you never ever gave up hope."

(4.8 of 5)
Click here to follow Entitled to Opinion on Facebook